Mondial is not so familiar to today's motorcycle fans. True fans of the history of motorcycling know that Mondial was once dominant in motorsport. It is even believed that Honda would never have prospered so quickly if the Mondial had not sold the Bialbero model to Soichiro Honda. We will leave the history lesson and the lesson about Mondial for another occasion. Today we will write about an exotic motorcycle from recent history, actually from the early 2000s.
The Mondial Piega 1000 is such a rare motorcycle that most two-wheeler enthusiasts, even those who consider themselves great motorcycle experts, don't even know about it. Imagine how a worker in a motorcycle service would react if such an exotic 'beast' came to him for repairs.
Since we got acquainted with a really nice story about this model when someone mentioned it to us recently, it is time for the knowledge to be passed on, so now we will talk a little about the Mondial Piega 1000 motorcycle.
For a while, Mondial dealt with producing chassis for other motorcycle manufacturers. Then, in the '90s of the last century, new management came to the factory. They wanted Mondial to return to motorcycle racing and to participate in the World SBK Championship.
The Failed Deal With Suzuki and Honda's Loyalty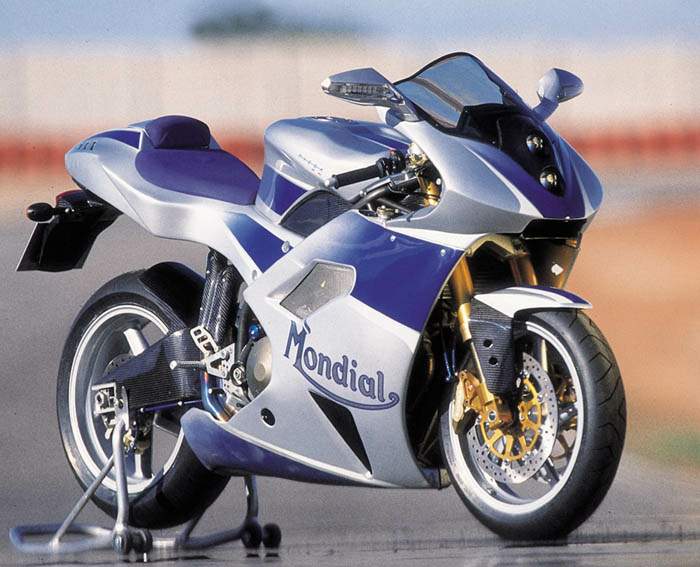 Since Mondial produced chassis, but not aggregate, it started thinking about whose aggregate to install in their chassis. An agreement was originally reached with Suzuki for the delivery of 250 units from the TL1000 model. Everything went according to plan and Mondial planned to present the model Piega 1000 at the 2000 INTERMOT motorcycle fair. However, for some reason, Suzuki decided to withdraw the agreement with Mondial and not to deliver the agreed units.
Left stranded, Mondial was re-thinking about which engine could drive its future superbike. After many offers were sent, in the end only Honda wanted to help Mondial. Obviously, the famous Japanese manufacturer remembered that Mondial helped it in its very beginnings. By the way, it was the first time in history that Honda officially approved another manufacturer to use its engine.
Thus, instead of the TL engine, Mondial installed Honda's engine from the VTR1000 SP1 model. The V2 engine from the VTR1000 SP1 has already proven itself very well. With a displacement of 999 cm and distribution via gears, as well as a respectable power of 136 hp at 9,500 rpm with a maximum torque of 110 Nm at 8,500 rpm, this aggregate was a real challenge for the competition.
Mondial has slightly improved the aggregate. It installed different injectors, as well as a 2-1-2 titanium exhaust system, and thanks to these modifications, it raised the power of the aggregate to 140 hp on the crankshaft. The exhaust itself fitted perfectly under the back seat. The ignition schedule and the ignition itself are also the work of Mondial, so the character of the unit differed somewhat from the original VTR.
Lightweight Chassis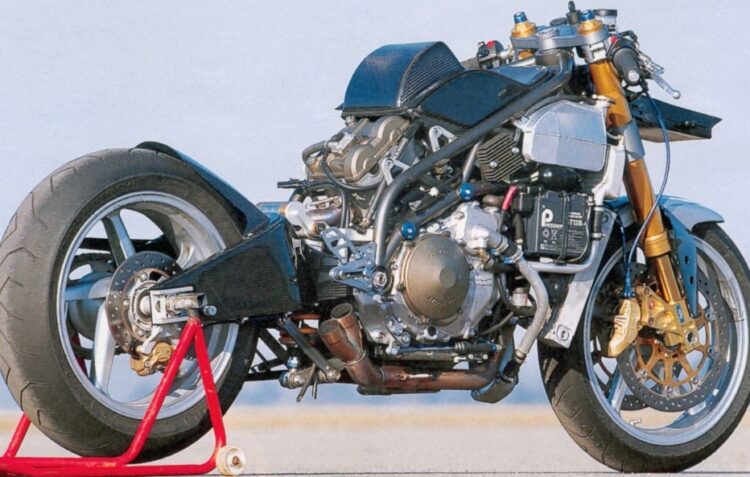 Since Mondial had a lot of experience in making the chassis, it was decided that Piega 1000 would use a tubular one. A chrome-molybdenum-steel alloy was used and the chassis was hand-welded. One specificity for Piega 1000 was the Paioli fully adjustable front suspension. The front fork had a rod diameter of 46 mm and a wheel stroke of 120 mm. The rear was fitted with Öhlins, a fully adjustable rear shock with a stroke of 115 mm. The light and a powerful motorcycle had to be maximally secured, so Öhlins also 'signed' the much-needed steering shock absorber.
Mondial wanted only the best braking system, and at that time Brembo was beating the competition. Two discs with a diameter of 320 mm and two two-piston brake calipers were installed at the front, and one disc with a diameter of 220 mm and a two-piston brake caliper were put on at the rear. At Mondial, they took care to save on every gram. The armor was made entirely of carbon, and each component was made of the lightest possible materials.
Thus, Piega 1000 had a dry weight of only 179 kg. For example, Honda VTR1000 SP1 had a dry weight of 196 kg.  With a fuel tank with a volume of 20 liters and other liquids, Piega 1000 weighed less than 200 kg. The choice of tire dimensions is also a bit interesting. The front tire had dimensions of 120/70 ZR18, while the rear tire had a slightly narrower tire dimension than was typical for 1,000-cm motorcycles and that dimension was 180/55 ZR18.
Big Plans and an Infamous Ending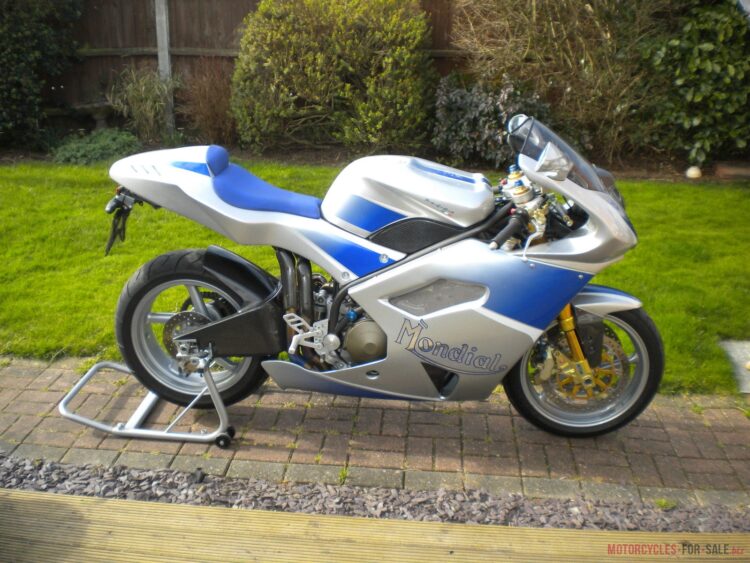 Mondial planned to make 250 copies of the Piega 1000 model so that it could incorporate the motorcycle for competition in the World SBK Championship. After only 25 copies were made, Mondial ran into financial problems and went bankrupt. Thus, in the period between 2002 to 2003, Piega 1000 ended ingloriously. Later, the new management of the factory has managed to make more copies and, according to some rumors, they reached 120.
In the end, however, the project was stopped, and Piega 1000 became a rare rarity. It is also interesting that 11 copies were stolen from the factory and the police never found them. It is presumed that they were stolen by the workers to whom Mondial owed salaries.
It is a pity that Mondial failed to perform in the World SBK Championship – on whose races you can bet at not-so numerous online casinos (look for them at TopCasinoExpert.com) offering sportsbooks with motorsport included – with the Piega 1000 model. Maybe it would achieve notable results which would help it sell motorcycles and get out of financial problems. This leaves only a beautiful story about an interesting and exotic motorcycle that promised a lot.