Elon Musk has a habit of revealing new and exciting things on Twitter. These days Tesla Cybertruck is the main focus, and since Thursday, everyone is interested in what is to be when it comes to this electric pickup. Here is what Elon Musk shared about this project.
Stainless steel
Cybertruck is, without a doubt, a lot more slab-sided. That is in comparison to some new EV designs, and the modern EV has smooth curves. Musk explained on Twitter what is the reason for this construction of angles. "Reason Cybertruck is so planar is that you can't stamp ultra-hard 30X steel, because it breaks the stamping press. Even bending it requires a deep score on inside of a bend, which is how the prototype was made."
Reason Cybertruck is so planar is that you can't stamp ultra-hard 30X steel, because it breaks the stamping press

— Elon Musk (@elonmusk) November 24, 2019
That cold-rolled stainless steel is Tesla's personal compound. Musk stated that it will be made in-house and that producing it will be a piece of cake. He said that there will be "new body manufacturing methods" and that that won't make the production difficult. Musk stated how he is "confident it will actually cost less because of its simplicity and lower part count."
Smashed window theory
Not so smash-proof windows were an accident. When the bodywork was in progress, lead designer Franz von Holzhausen threw a metal ball. That made him realize that the windows leave a small crack, and he started to repair the windows with some spar glass. He wanted to get the truck ready for drive loop demos, and all the reason why the glass cracked in the first place started developing. Everyone had their own theory, and Musk shared, "Sledgehammer impact on door cracked base of the glass, which is why steel ball didn't bounce off. Should have done steel ball on the window, *then* sledgehammer the door. Next time…"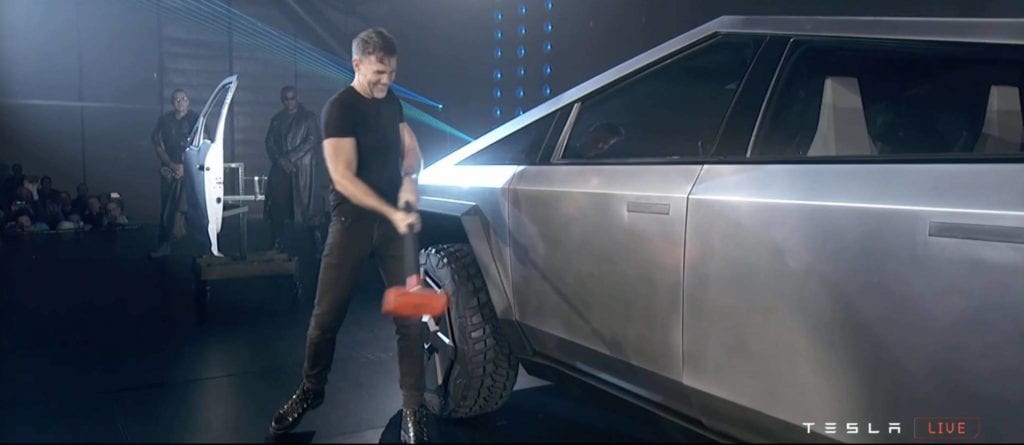 Colors
You could have Cybertruck in any color you wanted, but only if you have it with bare stainless steel. After some photoshopped the pickup in a different color, Musk liked the design and said that such colors should be available. But, there won't be a variety of colors. The design will be a vinyl cover that will have the standard color of the pickup, and users can paint and create a color or design on their own. It is cheaper that way, as the wrapping isn't as difficult to do. There isn't anything complicating to wrapping, and there will be less time required to do it than the regular paint job.
That way, the users can do whatever they like with the pickup's finish. Even some minor marks and scrapes can be redone, and your pickup will remain flawless.
Last for now
There are Model S, Model X and Model 3 in the making, and Model Y is still to be revealed. Tesla Roadster 2.0, Cybertruck, and Tesla Semi are waiting for their chance to shine fully, and Musk stated how Cybertruck is currently going to be the last project they intend to do. "Cybertruck is our last product unveil for a while," Musk shared, "but there will be some (mostly) unexpected technology announcements next year."
Tesla has a Full Self-Driving section under their sleeves for quite a while now. Musk mentioned how that will be added in the Cybertruck, too, and that it will cost $7,000. The Full Self-Driving option gives you the ability to drive the car without you driving it. The car will go by itself.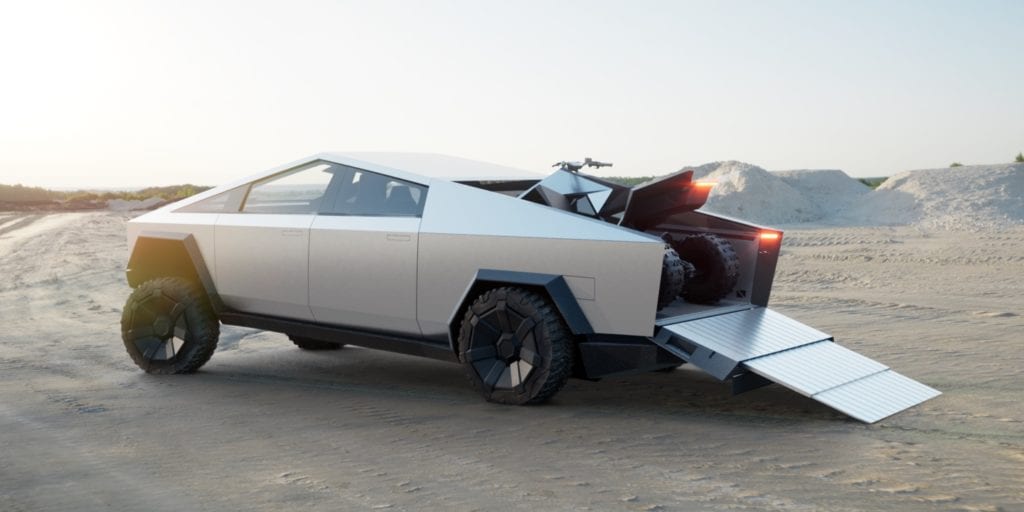 Not alone
For now, one model has been made – a six-seater Cybertruck with a 6.5-foot bed. In the months and years that follow, he won't be a single unit. It will be a family of cars. Some stated how this model is too big for some adventures, and the chief executive stated how a smaller model is going to be made. Since many manufacturers like Toyota and Ford have their pickups in various sizes, Musk will create the same with his Cybertruck, as he understands that not all drivers require the same thing with their vehicle.
Many stated how there should be a Cybertruck SUV with a third row of seats. Musk answered with an "interesting idea," meaning that that could be an option too. With time we will see.
Reservations
Despite the fact that there haven't been any reservation numbers revealed when it comes to Model Y, Musk shared the reservation number of Cybertruck. He said that there had been 146,000 since Saturday. One is worth $100.
Numbers have been increasing as each day went by. As of now, there are more than 200,000 reservations, and those reservations are refundable.