The 10th season of Fortnite will end this weekend with an event called … The End .
Do not worry, this is not the end of everything because it will be quickly followed by season 11 of Fortnite.
But that does not make it any less dramatic, as there is now an apocalyptic clock over a rocket at Dusty Depot.
And time is running out, which means that the big live event of season X is imminent.
But what will happen? When will this happen?
As usual, Epic Games has been pretty confused about what will happen, but to keep you informed, here is everything we know about The End event.
When does Fortnite The End begin?
According to the countdown, the Fortnite Season 10 event will begin on Sunday, October 13 at 7 pm Paris time or 11 am (Pacific time).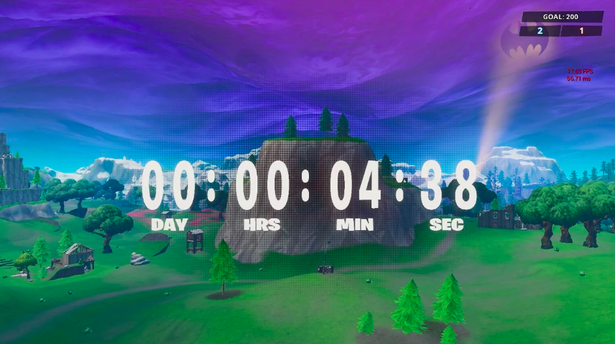 What will happen at the Fortnite The End event?
As usual, the live event will close the Fortnite season 10 and will lay the groundwork for season 11.
We do not know much about what will to happen, apart from the fact that it is very clear that this will involve the Visitor.
You will remember him as a guy who was traveling in time and whose rocket in season 4 had created a fracture in the sky.
The visitor returns in season 10, but is now known as a scientist.
He started building a rocket at Dusty Depot – and we expect the rocket to be launched at the end of the countdown.
But there is more – the characters have apparently been infected with BRUTE's mech viruses.
It blew them up as soon as they appeared.
There are many theories about what will happen – one of them being that the map could be completely destroyed.
This means that there could be a brand new map with new locations.
Epic also announced that they would introduce Bots, or AI players, to play.
When does the Fortnite Season 11 begin?
The Epic Games are not yet officially confirmed at the launch of Season 11.
The next season of the Battle Royale game was scheduled to begin last week, but it has been delayed.
As a rule, a new season starts immediately after the end of the previous season.
Thus, while we plan to start season 11 immediately, it has happened that a new season will come a few days later.
It's not usual for Epic Games to finish a season on a weekend either, so anything can happen.
Fortnite Season 11 Battle Column:
As usual, we expect Fortnite Season 11 Battle Pass to cost $ 9.99 (£ 7.60) or 950 V-Bucks.
It's the same as every other season.
There will undoubtedly also be a boosted version that will automatically push you up to 25 levels. This usually costs 2800 V-Bucks.