More people work from home now than ever before. Some professionals are transitioning to a remote office full-time, while others will use their space for only a short period. Whatever your situation may be, it's important to make your workspace as comfortable as possible. If you can't relax or focus at your desk, you won't be as motivated or productive.
Besides keeping your notes and papers organized, it helps to use the design principles of feng shui. The philosophy has been used for thousands of years to provide balance and harmony to the environment around you. Use these tips to create a beautiful and functional home office. In a short amount of time, you'll design a sanctuary for your online meetings and work sessions.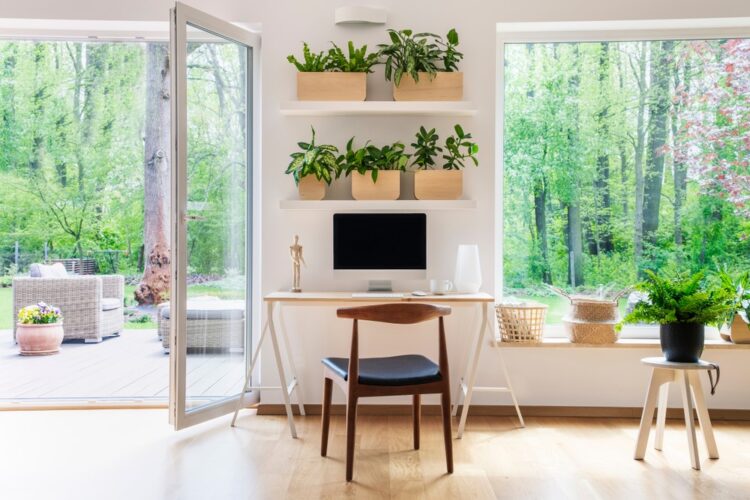 1. Find Your Own Space
Some remote workers are able to turn a spare room into an office. If you don't have this luxury, you can still use feng shui to make a space of your own. Find the quietest corner of your home—or at least an area that you can block off for a few hours. If possible, choose a workspace near a window. According to feng shui, natural light increases energy. The brightness combined with the increase in sunlight can help to make you feel more energetic and productive during your workday.
Consider arranging your desk so it faces a door. According to Greatist, this is usually the opening to your home office. When you need to share a room, try facing the living room or kitchen door. Feng shui philosophy claims that facing the door keeps you open to new opportunities. Most practically, you'll feel more in control of your space while staying aware of what's going on around you. When noise gets overwhelming, take a walk or spend some time in a quiet place, such as your bedroom. Just a few minutes in silence or nature can help you feel more balanced while you work.
2. Choose Harmonizing Colors
Color helps to set the mood and tone in your home office. First, think about your current wall color and décor. According to feng shui color experts, you have an excellent foundation for a relaxing and nurturing environment if your walls are blue, yellow, or lavender. If your job requires constant change and growth, decorate your space with the natural, flowing hues of green or turquoise. Some professionals require inspiration and passion to get through their day. Red and salmon décor can help to spark creativity and encourage conversation.
Before you redecorate, consider whether you have too much of one color. Feng shui is all about harmony and balance, which means that too much of a bold or fiery color hue can feel chaotic. At the same time, dark, muted colors will make you feel fatigued or uninspired. If you choose salmon walls, add a couple of pieces of metallic décor. The cool, liquid feeling of the metals are an excellent contrast to the high energy of pinks, reds, and oranges. If everything is blue or black in your space, incorporate some white, red, or yellow. Angular décor can help to spark motivation and energy. Lighter colors are also effective for lifting mood.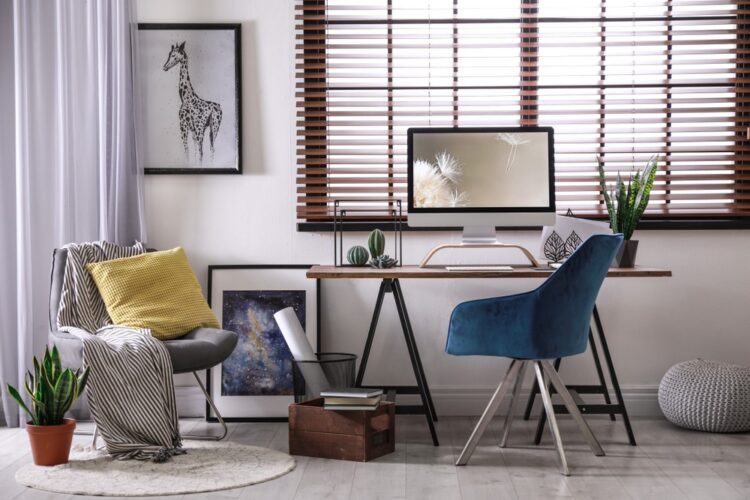 3. Pick the Right Window Coverings
While it's important to incorporate natural light into your home office, you also need your privacy. The right window coverings help to avoid brightness and glare, all while keeping your neighbors from looking inside your workspace. High-quality shades and blinds help to keep your workspace light and airy, so you don't need as many lamps.
If you have an office with traditional décor, consider wood blinds from Factory Direct Blinds. These attractive and naturally durable window coverings are one of the best choices for at-home workspaces. Their appearance incorporates the grounding and balancing Earth element into the room, while easy-to-operate slats let in the perfect amount of sunlight.
Quality material keeps hot temperatures and glare out. Wood blinds' neutral colors add a clean look and focus to your space while allowing you to incorporate other elements of feng shui around them. Vertical blinds are another excellent choice because they match with almost any type of home décor. You won't have to completely change the look of your room while incorporating the natural light you need into your work area. You can also select from a spectrum of colors to fit your office's mood.
4. Try Aromatherapy
Many people use aromatherapy to destress at home. You can use many of the same products to relax in your office. According to experts, essential oils such as lavender, ylang ylang, and neroli help to inspire harmony and energy when you're working on a difficult project or have a challenging day. Other popular favorites for a balanced environment include yuzu and bergamot.
Place a few drops of your favorite oil in a personal diffuser. When choosing a diffuser, consider one in a natural wood design or an energizing feng shui color. Some products even come with color-changing features, which allow you to set whatever mood you need. You can also use colorful aromatherapy candles. A yellow candle infused with uplifting scents such as lemon and ginger can help you power through a busy morning. A purple candle made with lavender essential oil can make afternoon brainstorming sessions more inviting.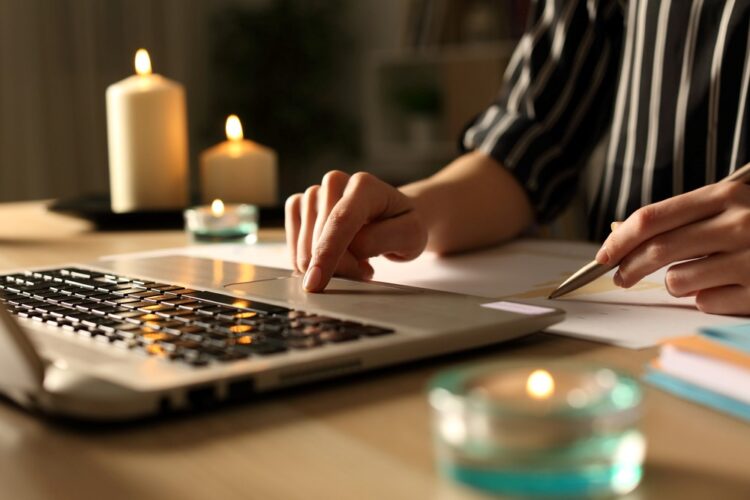 Add Harmony to Your Home Office
No matter where you work or what you specialize in, it's important for your office to feel comfortable and balanced. A combination of energizing and relaxing energy will help you to get through your day. Different colors and textures help you to stay alert and motivated. If your job duties or work conditions change, don't be afraid to add new feng shui elements. It's also a good idea to subtract excess items and remove clutter. The more thought you put into balancing your space, the better you can achieve your professional goals. You'll also be more productive and happy in your home office.