Whether it's a desire to participate in a nationally televised game or the thought of becoming an overnight millionaire, the lottery can be enticing. The risk is pretty small–$1 or $2 for a ticket. Yet, the potential payout can be thousands or millions of dollars.
The beauty of lotteries is that they don't require experience or skill to win. All you need is to choose a set of four to six numbers. And if you're lucky, winning the lottery can turn your life around for good.
In this article, we'll list seven Canadians with the biggest lottery jackpot wins in history. Intrigued? Let's get started.
1. Record-Setting $70M Jackpot in Toronto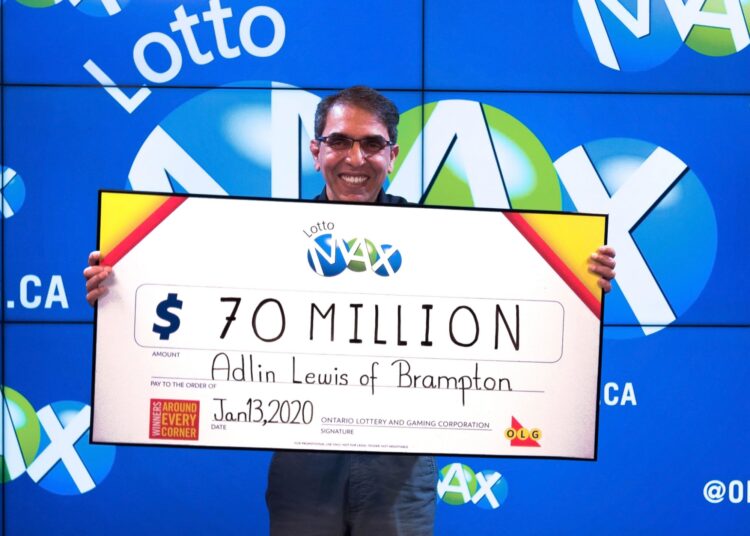 Early last year, a lucky Canadian from Brampton, Toronto, bought a lottery ticket that turned out to be the biggest lottery jackpot ever in Canada according to this source. The winner, Adlin Lewis, was a credit risk manager with a reputation for being lucky.
Indeed, the 49-year-old had won a car in 2019 and two holiday draws at his workplace. And get this—Lewis won the $70 million jackpot using a free play ticket. That's why, when he realized he had the winning numbers, he remained doubtful about his ticket until he scanned it on the OLG app.
Interestingly, Adlin, wasn't the only lucky player in January's big draw. At least six people won $1 million each, two people won $500,000 each and two more tickets worth $333,333.40 were paid out in Toronto and Sudbury.
2. Another $70M Jackpot in Quebec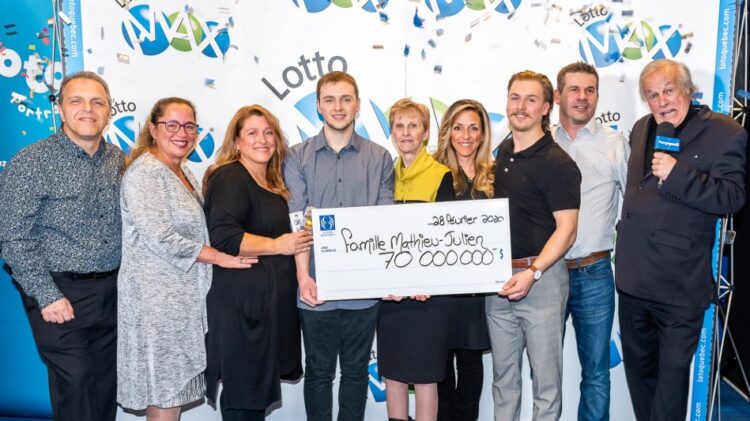 Shortly after Adlin Lewis won $70M from a jackpot in January last year, a 22-year-old later got the same amount of luck. Gregory Mathieu, a 22-year-old grocery store bagger had been struggling to save enough money to afford an apartment when he played Lotto Max.
Like many people, Gregory included his favorite number, 10, in his ticket. The number had a significant place in his family—it was the day his elder sister died. Luckily, this number helped Mathieu and his family win the biggest jackpot ever in Quebec: $70 million.
When asked how he planned to use the jackpot, Mathieu said he would share it with members of his family. Mathieu didn't have to split his windfall with anyone because he won it alone. Nevertheless, he was free to spend the money in whichever way he wanted.
3. A $65 Million Jackpot in Calgary, Alberta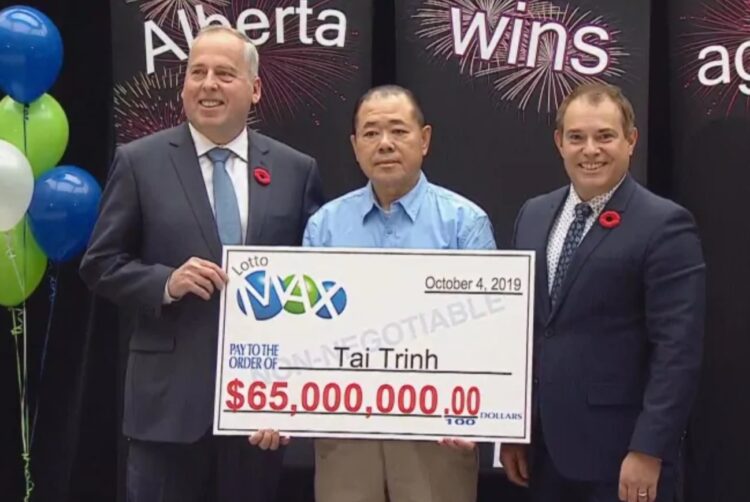 In October 2019, a 63-year-old man from Calgary won the biggest jackpot ever in Alberta. Tai Trinh, the winner, had been buying lottery tickets at the same Shell tore for years. Then came October 4th, the day his efforts would pay off.
Tai didn't tell any of his family members about his windfall until he confirmed it with Lotto Max authorities. It was the biggest jackpot in Canada's history at the time and so Tai wanted to be certain he was the true winner.
According to Lotto Max officials, Tai was the 200th winner of the Lotto Max game since its launch in 2009. In Calgary, Tai was the 29th winner of the pot, eclipsing the second largest jackpot in Alberta by $25 million.
4. A $64 Million Jackpot in Ontario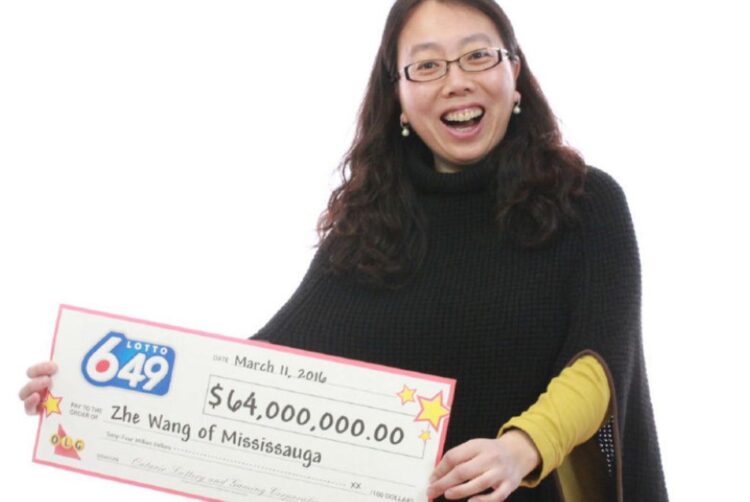 In 2016, a lucky woman was the winner of the biggest jackpot in Canada's history at the time. Zhe Wang from Mississauga, Ontario, had purchased a Lotto 6/49 ticket in October 15 and remained quiet about it for weeks.
After claiming her $64-million jackpot, Zhe also chose not to do a news conference to protect her family's right to privacy. All the same, Wang won the lotto prize alone, an amount of money that certainly changed her family's lives.
5. Four Winners of a $63M Jackpot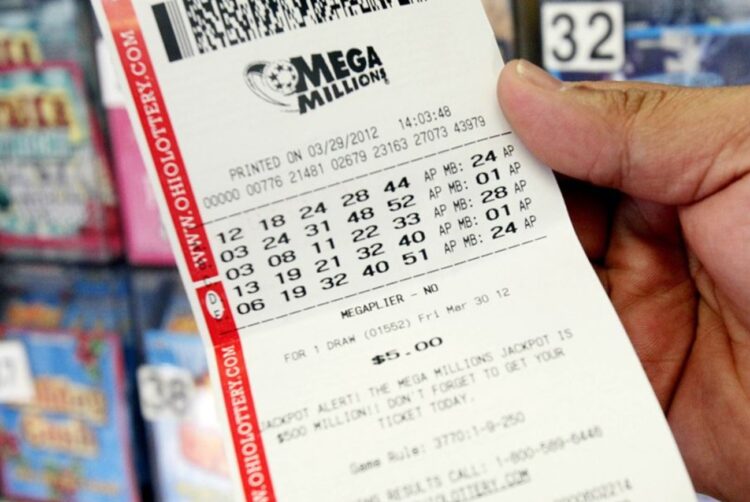 In 2013, four Canadians shared a whopping $63M windfall in the country's biggest jackpot ever at the time. Three of the winners hailed from British Columbia while the fourth was a native of Alberta.
At the time the winner numbers were announced, lottery officials hoped to payout $55 million. Then ticket sales surged and the grand prize jumped to $63.4 million. Owing to this, the four winners shared nearly $16 million each.
Although sharing the jackpot resulted in smaller but decent wins, they were much better than the jackpot shared by 17 oil and gas workers in 2005. The workers had bought the winning ticket of a $54.3M jackpot. But after splitting the money, they settled for $3.1M each.
6. A $60M Jackpot in Alberta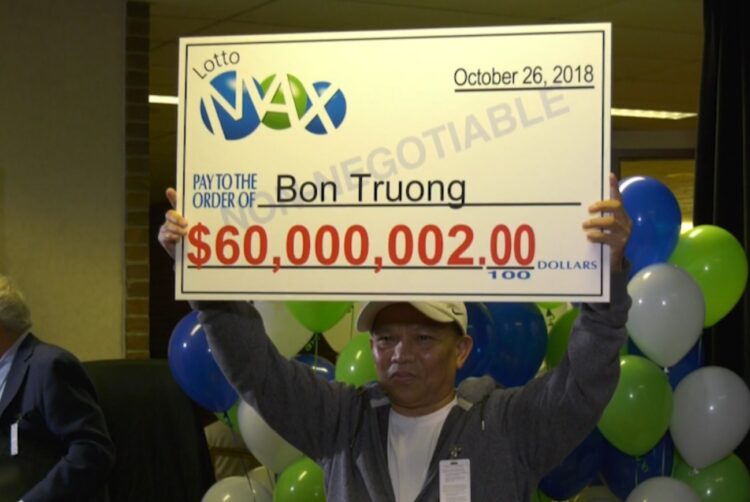 One of the most common tricks people use to win lottery jackpots is to buy tickets using the same numbers repeatedly. Sometimes this strategy works, like in the case of 55-year-old Bon Truong of Edmonton, Alberta.
Truong had been picking the same lottery numbers for over 30 years. He was already used to losing. But even after he won, he remained calm and only phone his wife to inform her he had won some money without mentioning the amount.
Interestingly, Truong took ten months to claim his jackpot winnings. The pot had a 12-month validity, which is why he was not in a hurry to claim the money. He took so long to claim the money to prepare his family psychologically for the changes in lifestyle they experience after the windfall.
7. A $39.5M Jackpot in B.C.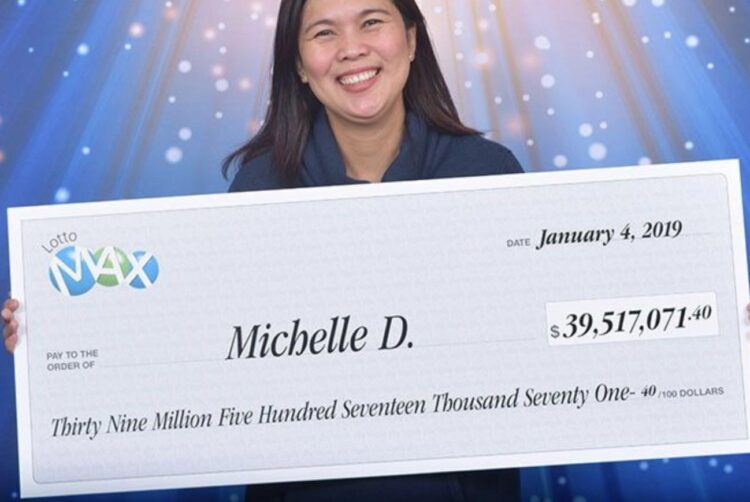 2019 was a year of big lottery wins in Canada. Although Tai closed the year with the biggest triumph, it was Surrery's Michelle De Roma who won the first big jackpot of the year. She had purchased her ticket on Dec. 28 in 2018.
Then at the start of 2019, she received news she had won $39.5M from a jackpot. Immediately after the news, she booked a trip to Italy to visit her mother. But before she went, she gave her husband the best birthday party he had for years.
Surrey has a history of producing lottery winners. In 2013, a man who had purchased a pair of tickets with the same numbers, doubled his prize money to $31.6 million after his lucky numbers won the jackpot. Finally, in 2010, a couple in Surrey had won $25 million to set a record for B.C.