There are thousands of websites out there that deal with written content. Basically everyone can start one and write something they are passionate about, either as a hobby or as a side job. It does not have to be a website either, as there are many forms of writing texts on the computer. However, not all of the writers and all of the texts are of the same quality. Actually, they differ greatly and this is one of the most important factors when success and possible earnings are considered.
To stand out from your peers and competitors, you need to be able to write texts of a certain quality, texts that meet a certain standard. Writing can be a slow and dull process, so in order for everything to become and stay perfect, some help can go a long way. Fear not however. There are many tools you can utilize to make your writing process more enjoyable. Thanks to the incredible world of the Internet and its online writing tool, you will be a master writer in no time! In this article, you will learn how to speed up your writing, check it for quality and grammar, edit it the right way, and much more. Following are six essential tools every computer writer should have at their disposal. More info on this can be found on professays.com.
1. Grammarly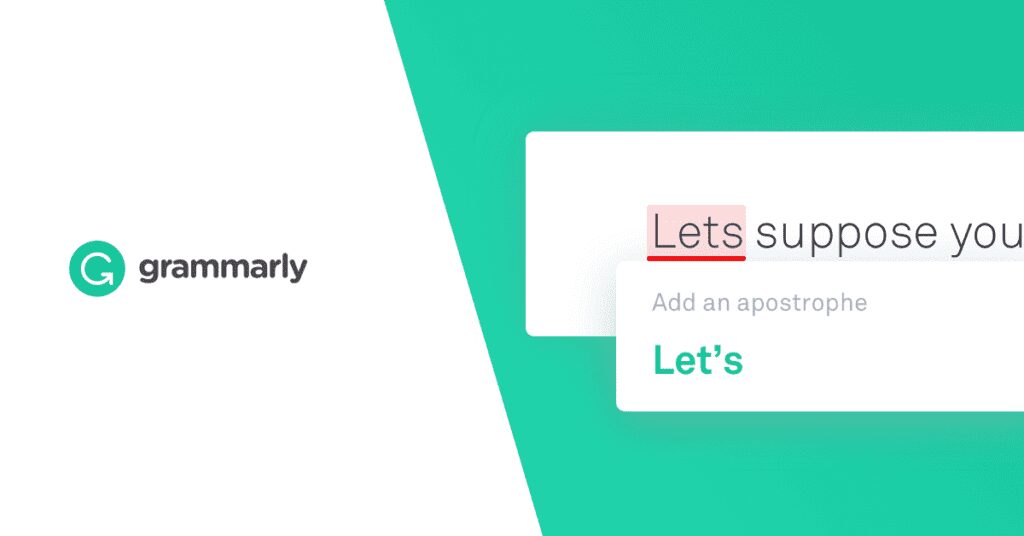 First of all, when you write, you have to have your grammar right. People often forget to check the spelling and grammar, which can put the entire article in jeopardy. Small errors can happen to anyone, but if we do not take time to check, our text might appear unprofessional. Sometimes, it can be hard to spot the errors. In order to keep your sentences sharp and right, try using Grammarly. Download this free browser extension and it will serve you as a grammar and spell checker, while also providing word variations, sentence structure, and the voice. The add-on will help you no matter where you are writing on the web, be it Google Docs, Twitter, Facebook, etc. If you wish to really expand your social media presence and be a better writer without errors, give it a shot. It is easy to use and free.
2. Hemingway Editor
Grammar is crucial, there is no denying that, but what about making the text a true piece of readable online content? After all, the main purpose of writing is so that an average reader can understand the message of the article. Online content works best if it is comprised of shorter sentences and small paragraphs, completely different from real written works. This is because of the fact most people read on the go or want their content quickly, so easy reading is very important. Hemingway Editor can help you here. What it does is test what you write for readability. This is another free app and it will grade your content and provide you with suggestions on improvement. The tool helps with passive voice, counts the adverbs since fewer is better, and tells you if a certain sentence is difficult to read and understand.
3. Wordcounter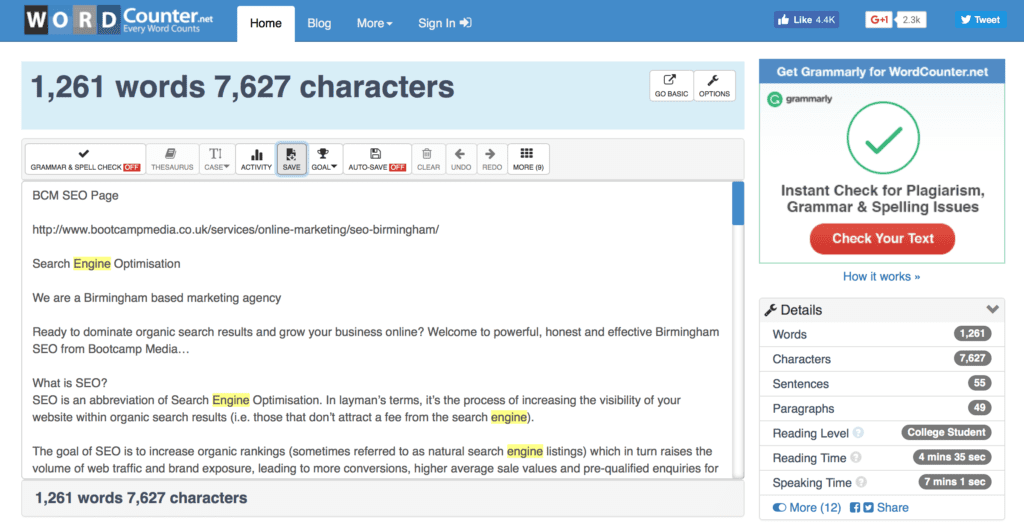 The number of words in your text is important, especially if you write for someone who pays to buy the word, or up to a certain word count. If you have assignments that always have their own predetermined word counts, the Word Count tool will be of great use to you. As its name says, it counts the words you type in. What is more, it is also capable of counting characters, sentences, and paragraphs, just in case you have to keep track of them too. The reading level is also measured, so it has some similar features with the previous entry on the list. Perhaps the best part about Word Count is that it can estimate the reading and speaking time you will need for the text. If you have an important speech coming up, look no further than this app for help. Last but not least, it will spot overused words in your text, as there is nothing worse than a text filled with one word present everywhere.
4. One Look Reverse Dictionary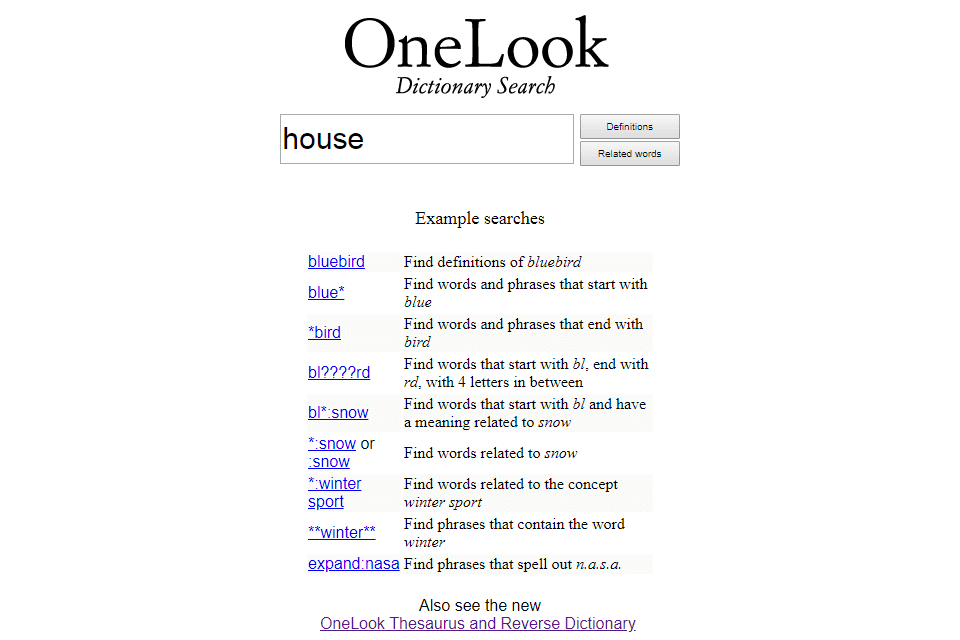 As we said, word repetition can kill your content because it does not really take much for your readers to notice them and wonder how many times you have used it. They will slow your readers and give you a bad name. So what words to use if you must for whatever reason repeat them? Well synonyms of course, and The One Look Reverse Dictionary is there for you. Think of it as an online thesaurus on steroids that you can utilize to discover whole lists of similar words, and even search them by definition. Simply type in "small car" and you could be directed to "coupe" in no time!
5. Cliché Finder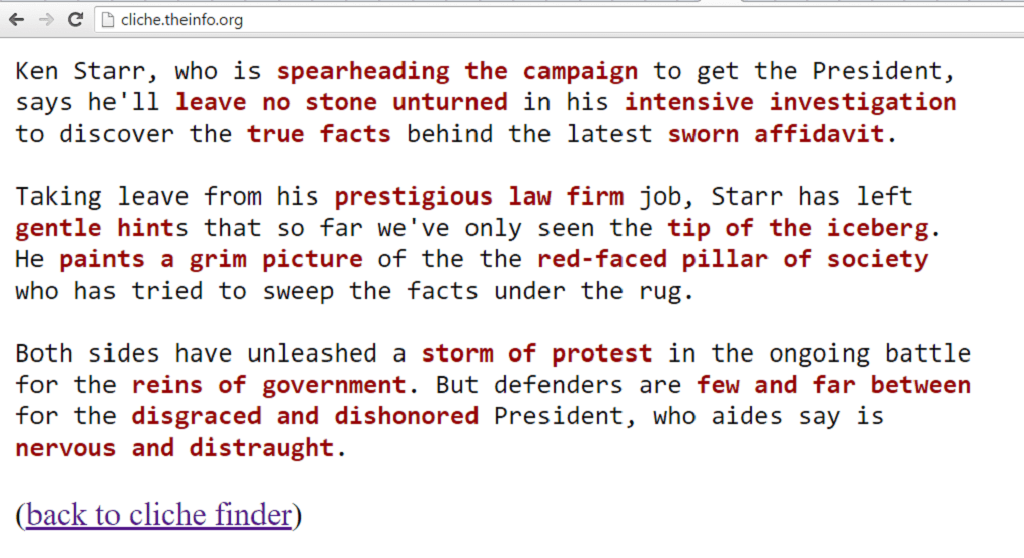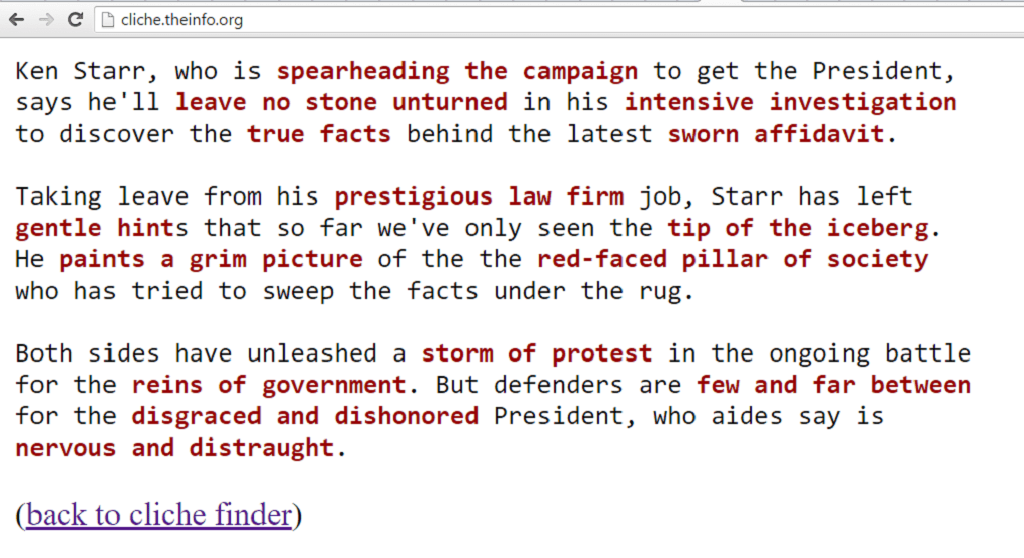 Clichés are not always bad, but many readers simply do not like them in their texts, while too many of them too often will make your work unoriginal and limited. Occasional clichés will be inevitable, but in order to make sure you never overuse them, try Cliché Finder and identify the often-used phrases in your texts. Simply copy and paste your text in the designated field and submit. You will get highlighted clichés and an opportunity to replace them with something more original!
6. Draft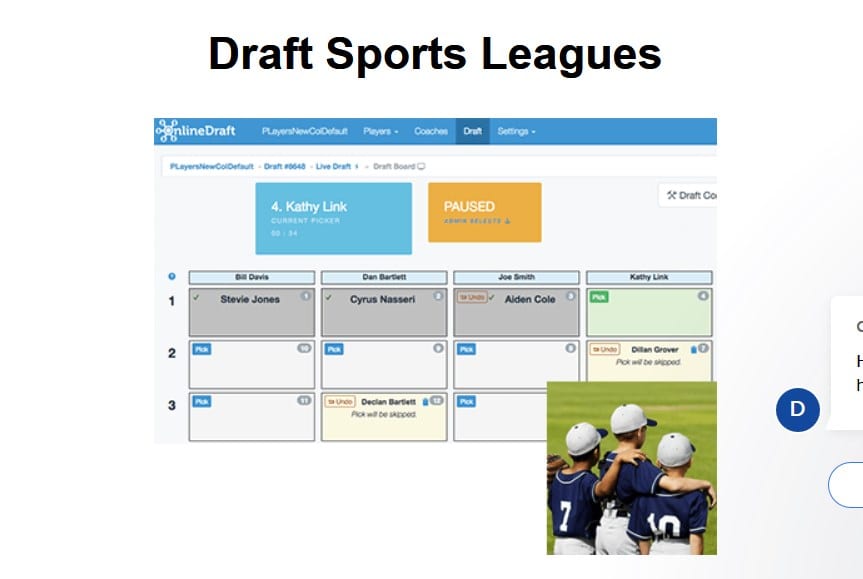 Last but not least, the Draft online tool is there to help you with an interface that reduces distractions and allows you to make useful and different drafts of your text. The best feature is the "mark draft" button, which allows saving of story drafts and keep working. You can save up to four drafts and compare them side to side. It will also track the word number and remind you though emails to meet your daily goals! In case you need the research writing help, visit CustomWritingHelp.