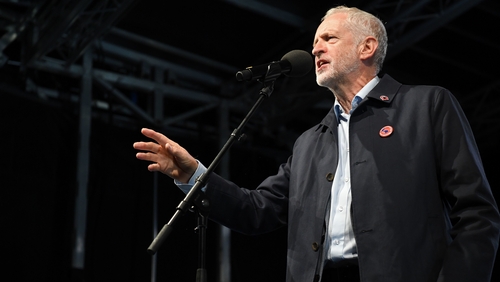 The Labour Party has never formally rejected the option of a further vote, but both Mr Corbyn and his deputy, Tom Watson, have indicated they would prefer it to be resolved by a general election.
More than 100 local Labour associations have submitted motions to the conference, which starts Sunday, urging a "People's Vote" - a new referendum - with a choice between leaving on terms agreed by the government or staying in the EU.
Following a monumental five-hour debate of Labour Party members and union delegates, Labour has chose to ask its members to back a complex motion which fails to rule out either a General Election or a new referendum.
An early draft was understood to be six pages long and contained a single reference to a new referendum as just one option that Labour could pursue.
"Our preference would be for a general election and we can then negotiate our future relationship with Europe but let's see what comes out of conference", he told the BBC's Andrew Marr Show, saying Labour was ready to vote against any deal.
Mr Robinson asked for clarification and said in response: "I don't want to put words in your mouth but I think I am hearing you right, if you want to respect the first referendum, the first people's vote, you're saying we can't reopen that".
Left-wing activists said it was a "meagre" set of reforms that failed to fully address the concerns of those who want to introduce more democracy into internal party fights.
All other changes which emerged from a party review of rules, including new powers for Scottish and Welsh conferences to determine how NEC representatives from the Scottish and Welsh parties are chosen and the creation of a disability place on the committee, were approved by at least 90% of those who voted.
"What comes out of conference I will adhere to". Some 81 per cent believe their standard of living would get worse after Brexit and 89 per cent said it would be bad for jobs.
Emirates and Etihad Airways deny takeover plan
" Etihad Airways denies any plans for an Emirates takeover", an airline spokeswoman said in a statement to The National . The Dubai government was also the driving force in compelling Emirates to cooperate with local discount carrier FlyDubai.
American Red Cross Donations to Help Relief From Hurricane Florence | weactv24
The relief effort includes 80 emergency response vehicles and more than 120 trailers of equipment and supplies. Make your donations through this special Google.org webpage to take advantage of the matching funds.
Outrage over $500 duct-tape designer shoes from Nordstrom
She asked, "Who's in the room when you design these?" However, many seem to think the sneakers are "distasteful" and "offensive". Golden Goose made a pair of sneakers nearly identical to it's latest release back in 2016.
Britain's opposition Labour Party leader Jeremy Corbyn gestures as he arrives with Labour Party's Executive Director of Strategy and Communications Seamas Milne (R) to give an interview to the BBC at the Museum of Liverpool on September 23, 2018, the official opening day of the annual Labour Party Conference.
Conservatives seized on their comments as a sign Labour was ready to seek to overturn the Leave vote in the 2016 referendum.
The Labour MP replied: "We are respecting the result of the referendum - we want a general election".
Corbyn, an Arsenal supporter, is on Merseyside due to the Labour annual conference taking part in the city this weekend.
Theresa May pinned the blame firmly on the European Union on Friday (21 September) for the "impasse" in the Brexit negotiations, as the prospects of the United Kingdom crashing out of the bloc without a deal dramatically increased.
Labour leader Jeremy Corbyn accepted he would be "bound" by the outcome of Tuesday's conference motion.
The Daily Mail reports that Jewish Labour MP Luciana Berger was forced to rely on police protection as she attended an anti-Semitism rally in Liverpool.
Ms Butler said: "We are in Liverpool, where over 30 years ago the council stood up to Thatcher and said better to break the law than break the poor".
Tory chairman Brandon Lewis said: "The last pretence that Labour ever respected the democratic decision of the British people is rapidly disappearing".