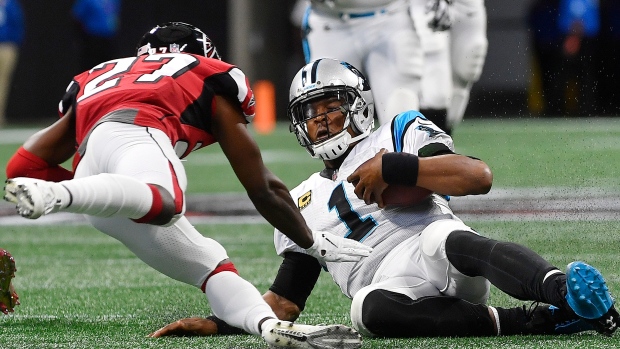 Falcons safety Damontae Kazee was ejected from the game after drilling Panthers quarterback Cam Newton in the head on a late helmet-to-helmet hit in the first quarter.
"It was self-explanatory. What needed to happen, happened", the QB said, via Joe Person of The Athletic "This game isn't fit for cheap shots like that".
The quarterback was sliding to the turf at the end of the play when Kazee dove low to deliver a helmet-to-helmet hit that snapped back Newton's head. The QB slid in the open field.
Florence continues to wreak havoc in North and SC
As authorities rescued people by boat and even airlifted 50 stranded people in North Carolina, there were also reports of looting. In Hampstead, North Carolina, emergency responders going to a call for cardiac arrest found their path blocked by downed trees.
Vontae Davis leaves midgame: Bills CB retires during vs. Chargers
According to ESPN's Chris Mortensen, Davis put on his street clothes at halftime, said he was quitting and then left the stadium. He had played with the Colts since 2012.
Bills' veteran Davis 'retired' at half
Davis changed into his street clothes at halftime and left the stadium, ESPN.com reported , citing an unidentified source. Davis started Sunday's game but was not seen on the field or on the sideline in the second half.
A skirmish ensued. Panthers receiver Torrey Smith was penalized for unnecessary roughness during the scuffle. The Panthers notched a touchdown on the drive, with Newton finding Jarius Wright for a 5-yard score.
Considering the severity of the hit, Kazee could be facing a possible fine or even suspension.