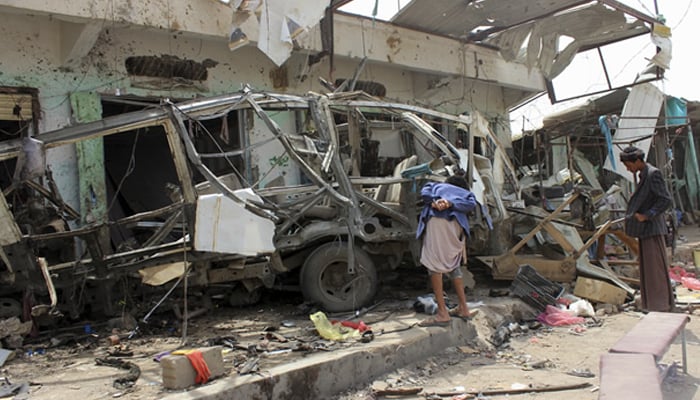 On August 9, a coalition airstrike hit a school bus in Yemen's northern province of Saada, killing 51, including 40 children.
The Saudi-led coalition in Yemen has admitted that an airstrike that struck a school bus last month, killing dozens of civilians, was unjustified.
On Saturday, the coalition said it had reviewed the findings of its internal investigative body, the Joint Incidents Assessments Team (JIAT), and accepted that mistakes were made.
The Coalition spokesman told a press conference in Riyadh that "an order had been given not to target the bus, which was among civilians, but the order arrived late". It resumed them after taking security measures. A United Nations panel of human rights experts said last week that some coalition airstrikes may constitute war crimes.
The coalition said it will "undertake legal proceedings to hold the ones who committed mistakes accountable", and said it would work with the Yemeni government to identify the injured and the families of the dead in order to arrange for compensation.
Suu Kyi should've resigned rather than excuse Rohingya genocide — United Nations chief
While it's true the real perpetrator of the genocidal campaign is Myanmar's army, led by its commander-in-chief, Senior Gen. Min Aung Hlaing, Aung San Suu Kyi is equally, if not more, culpable.
Small leak in International Space Station fixed
Air pressure on the International Space Station has been restored to correct levels after a leak was repaired. Ground controllers noticed a slight dip in ISS cabin pressure on Wednesday night (Aug. 29).
Former champion Del Potro into US Open last 16
I would be home doing a bunch of different things and being successful at those things, but I want to do this", she said. This time, the American will seek a quarterfinal spot when she faces No. 15 Elise Mertens of Belgium on Sunday.
The U.S. State Department on Sunday welcomed the coalition's statement as "an important first step toward full transparency and accountability".
"We continue to call on all sides to abide by the Law of Armed Conflict, to mitigate harm to civilians and civilian infrastructure, and thoroughly investigate and ensure accountability for any violations", she added. There was no immediate comment from Saudi Arabia. It also was an apparent reference to Saudi Arabia's regional foe Iran, which the coalition has accused of arming the Houthis. In June, the AP reported that hundreds of detainees had been subjected to sexual abuse and torture.
The coalition has faced criticism for its campaign of air strikes that has killed civilians and destroyed hospitals and markets. They have also targeted religious minorities and imprisoned opponents. The coalition backs Yemen's internationally recognized government of Abed Rabbo Mansour Hadi and aims to restore it to power.
At the time, the Saudis said that the airstrikes had targeted missile launchers used in an attack on the southern Saudi city of Jizan and that the Houthis were using children as human shields.
Yemen has been devastated by a conflict that escalated in early 2015, when the Houthis seized control of much of the west of the country and forced President Abdrabbuh Mansour Hadi to flee overseas.