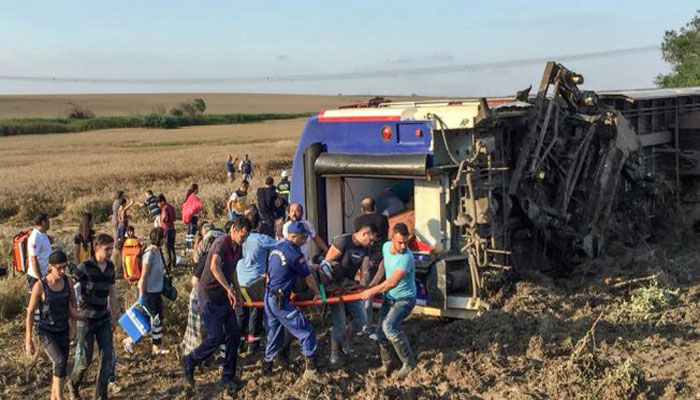 The train was traveling from Uzunkopru, Edirne province, to Istanbul when it derailed near Sarilar village in Tekirdag's Corlu district, according to Anadolu.
At least 10 people were killed and more than 70 injured Sunday when most of a passenger train derailed in northwestern Turkey, Turkish authorities said.
Tekirdag governor Mehmet Ceyhan said the area where the derailment happened was muddy from heavy rain and hard to reach.
Health Ministry Undersecretary Eyup Gumus put the number of fatalities at 10 and the people injured at 73, based on initial reports from the scene, according to Turkey's official Anadolu news agency.
The first television pictures showed several train carriages laying on their sides, and shocked injured being taken away on stretchers as rescue workers picked through the wreckage. Five of its six cars derailed.
N. Korea, U.S. differ on results of Pompeo's latest visit
We sell them $100 billion, they sell is $500 billion, we can hurt them more than they will hurt us. The report said Trump signed the CD and instructed Pompeo to deliver it with the personal letter.
Trump's Supreme Court justice pick: Names of 6 candidates interviewed by president
But Judge Kavanaugh also has his defenders, among them Matt Schlapp, president of the American Conservative Union and CPAC. Susan Collins of ME affirmed to reporters Wednesday she will not affirm a nominee with "demonstrated hostility" to Roe v.
Facebook agrees deal to broadcast Premier League football in Thailand
And The Times claim Facebook have now agreed their own rights deal and will begin work in the lucrative Asian market. Premier League clubs reportedly regret having voted to end the transfer window early in a World Cup year.
Deputy Prime Minister Recep Akdag said today that heavy rain had caused the ground under the rails to collapse, causing Sunday's crash.
Erdogan said all state institutions were "using every means available to help", vowing that there would be a comprehensive investigation into the "tragic accident", the presidency said.
Transport Minister Ahmet Arslan said seven other trains had used the route earlier Sunday but the rain caused "extraordinary swelling".
About 100 ambulances were at the scene, along with helicopters from the Turkish army.
In a statement, Erdogan said the train accident is being investigated thoroughly and conveyed his condolences to the families of those who lost their lives in the accident.