The Boston Bruins have had a slow offseason and have lost pieces with no observable urgency to add any replacements. It is becoming apparent that the team will look within the organization for their young talent to step up and make an impact at the NHL level.
In particular, the Bruins need to stabilize and bolster their depth at right wing. With the loss of Jarome Iginla to the Colorado Avalanche, the Bruins now only have two right-shot forwards: Patrice Bergeron and David Krejci. Neither Bergeron nor Krejci will be sliding from center to right wing, so the burden falls to second-year Bruins teammates Loui Eriksson and Reilly Smith. They will likely be supported by a cast of call-ups from the Providence Bruins fighting for their chance at a roster spot.
Smith may present the biggest potential upside for the Bruins, especially after having a breakout season in the NHL with periods of blistering offensive production. Along with these offensive surges came some large downswings that had some questioning why Claude Julien wasn't shaking up the roster to bring him out of the "slumps." Those decisions appear irrelevant now and, if anything, allowed the Bruins to find a connection between Carl Söderberg and Eriksson — and view Söderberg's ability at center on the third line. The biggest question now may be this: Which Smith will the Bruins get for the 2014-15 season?
The good news is that, upon a review last season, Smith appears to be on track to continue making a positive impact on the team.
Smith came to the Bruins in the 2013 summer trade that sent Tyler Seguin, Rich Peverley and defensive prospect Ryan Button to the Dallas Stars in exchange for Eriksson, Smith, Joe Morrow and Matt Fraser. Prior to coming to the Bruins, Smith's NHL experience consisted of three games with the Stars during the 2011-12 season, 37 games with the Stars during  2012-13, and zero NHL playoff experience.
With the Bruins in 2013-14, Smith played in all 82 regular season games and all 12 of Boston's playoff contests. This consistency allowed him to build chemistry with Bergeron and linemate Brad Marchand, and to be one of the team's five players with 20-plus goals. Smith also added four goals in the playoffs, tying Milan Lucic for second on the team. Two of his goals were game-winners.
The criticisms against Smith started just before the Olympic break, where he went on a five-game goalless streak, which continued for 10 more games after the NHL resumed play. Smith would only score two goals in the final 25 games following the Olympic break — good for an astonishingly-low 4.9 percent shooting. This was a far cry from a season-high shooting percentage of 21.88 percent held on Dec. 27, and the 13.7 percent Smith finished the regular season with. In the playoffs, Smith shot at 15.4 percent, performing slightly better than his season average and showing some offensive life after a seemingly dismal end to the season. That chart below shows Smith's cumulative shooting percentage over the course of the season.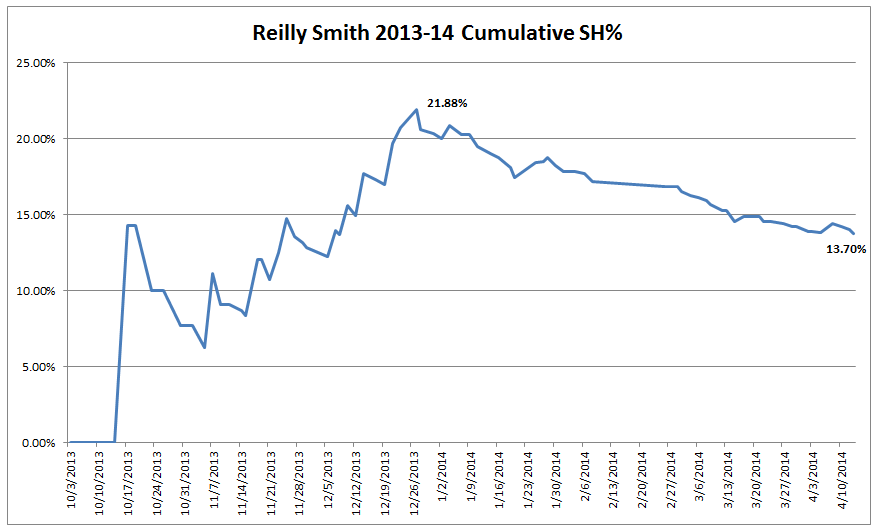 With the significant drop from the high of 21.88 percent to his season finish at 13.7 percent — a full 8.18 percentage points — real questions emerge. Was Smith's decline at the end of the season just normal regression, or was his poor season finish a representation of things to come? It is highly unlikely that Smith will be able to maintain a shooting percentage of 21.88 percent. There are only three players who played in more than 41 games and cracked 20 percent last year: Brenden Morrow, Tyler Bozak and Matt Stajan.
For players that appeared in 74 or more games (90 percent of the season), no skater cracked 20 percent, and the top five in the league range from 16.8 percent (Brad Marchand) to 19.1 percent (Valtteri Filppula). Smith's 13.7 percent ranks 36th among this group alongside T.J. Oshie, Artem Anisimov and Nick Bonino. That's not bad for Smith's first full season in the NHL, but performing in the 19-20 percent range is not a typical feat for full-time NHL skaters.
Though Smith may not lead the league, he will be unlikely to get pegged to the low ends he experienced during the season. Smith's shooting percentage regressing down to 13.7 percent looks more like a normalization towards how he typically performs.
Looking at Smith's games played with the Texas Stars, Dallas' AHL affiliate, he shot at 13.9 percent over 45 games played. In the 37 games played with Dallas in the NHL that season, he shot at a lower 8.8 percent, but this progression is actually an encouraging sign. As Smith was starting in the AHL and playing against competition more at his level, he managed a better shooting percentage than during his NHL games.
With the Bruins, and a full season of NHL games under his belt, he has upped his game to surpass 8.8 percent and shoot at 13.7 percent – on par with the 13.9 percent posted in his AHL games. Smith has gained confidence and has shown he is now capable of competing and succeeding at the NHL level. I expect him to continue this progression and get incrementally better as he continues to gain experience and confidence with Boston.
The Bruins' success this season rests on young players like Smith continuing to grow as they see more NHL games, especially at the crucial right wing position. Smith has shown excellent skating abilities, and has proven he has the skills to put up significant offensive numbers.
The name of the game this year will be consistency; Smith may not reach peaks of 20-plus shooting percentages, but he should also be able to avoid the deep troughs of scoreless streaks and low shooting percentages. He has the upside to score goals in bunches and be another top contributor on the team, and I wouldn't be surprised to see his shooting percentage improve over his second full season.